Tashkent to Ashgabat
Booking Dates
08/19/2020 through 10/17/2022
Travel Dates
08/19/2020 through 10/20/2022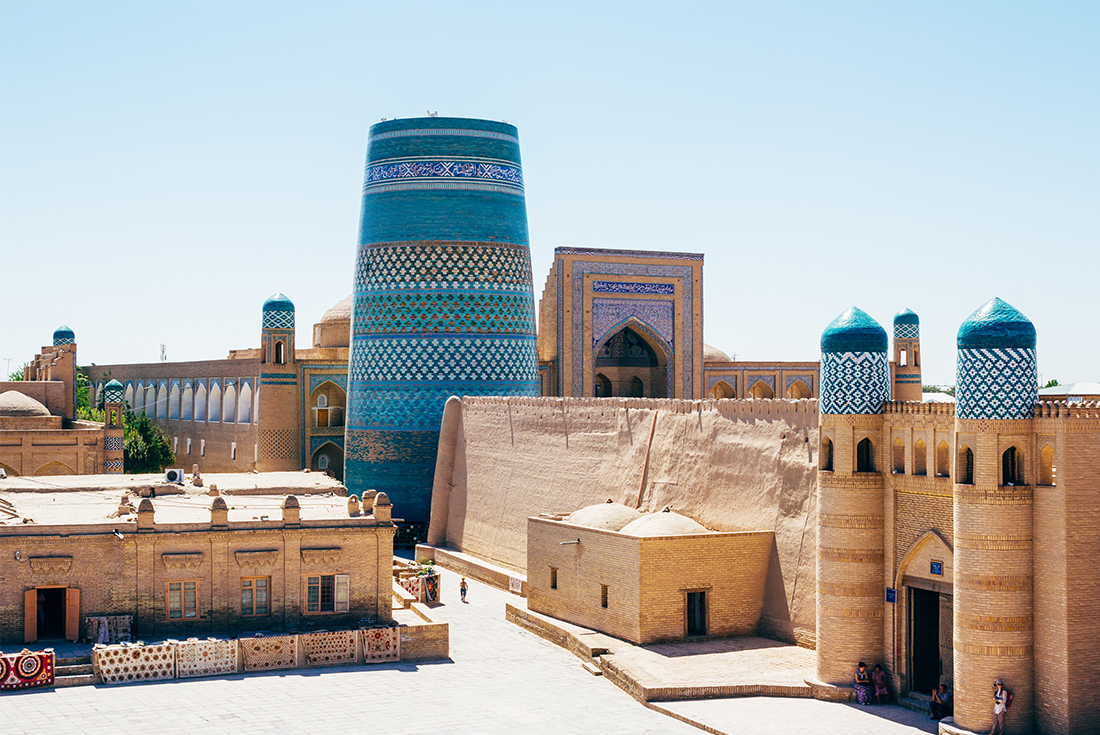 Tashkent to Ashgabat

Travel into desert landscapes heavy with romance and mysticism on this 10-day journey through Uzbekistan and Turkmenistan. Watch the sun set over Technicolour minarets in Khiva, learn about life in a desert settlement in Yerbent and revel in the eastern-futurism of Ashgabat. Step off the beaten track and onto the ancient Silk Road in this revelatory tour through ancient lands.

Activities
Khiva – Pahlavon Mahmud Mausoleum
Khiva – Kuhna Ark
Khiva – Islom Hoja Minaret & Medressa
Khiva – Juma Mosque
Khiva – Tosh-Hovli Palace
Darvaza – "Door to Hell" Crater
Konye-Urgench – City tour
Yerbent – Village visit
Ashgabat – National Museum of Turkmenistan
Ashgabat – Nisa ruins
Ashgabat – Anau ruins
Ashgabat – Independence Monument
Ashgabat – Neutrality Arch
Ashgabat – Turkmenbashy Ruhi Mosque & Family Mausoleum of the First President of Turkmenistan
Ashgabat – Ertugrul Gazi Mosque
Merv – Big & Small Kizkala
Merv – Erk Kala & Gayur Kala
Merv – Sultan Sanjar Mausoleum
Highlights
This incredible journey takes you through parts of Central Asia that few people can find on a map, let alone have considered travelling to.
Steeped in Silk Road history and immortalised in many great tales, the UNESCO-protected town of Khiva is as photogenic as it is legendary.
Explore the sprawling ruins of Mary, Merv and other ancient kingdoms and contemplate the remnants of empires that once ruled these vast lands.
Witness the eternal flames of the Darvaza Crater, aka the 'Door to Hell' as you camp nearby – one of the strangest, most mesmerising geological oddities on earth.
Ashgabat rose from the devastation of an earthquake in 1948 and has enjoyed a surreal and futuristic makeover – witness its often bizarre, but certainly memorable architecture on a city tour.
Itinerary
Destination
Pricing
Terms and Conditions
| Day | Description | View All |
| --- | --- | --- |
| Day 1 | Tashkent | Details |
| Day 2 | Khiva | Details |
| Day 3 | Khiva | Details |
| Day 4 | Konye-Urgench – Darvaza | Details |
| Day 5 | Yerbent – Ashgabat | Details |
| Day 6 | Ashgabat | Details |
| Day 7 | Mary | Details |
| Day 8 | Merv – Mary | Details |
| Day 9 | Ashgabat | Details |
| Day 10 | Ashgabat | Details |